Sweet Family Bonding: Why Strawberry Picking is the Perfect Activity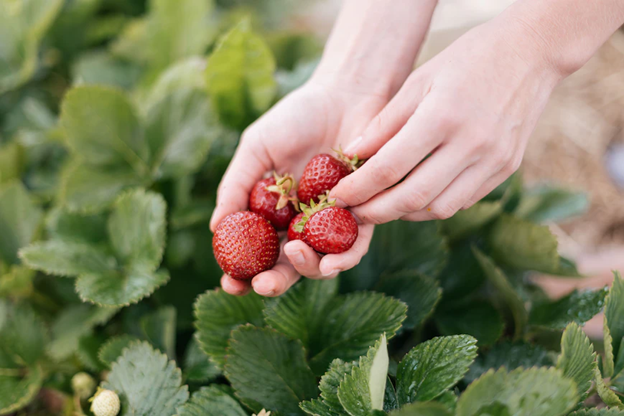 Spending time with your family is important, and finding activities you can enjoy together can be challenging. However, strawberry picking is an activity that can bring the whole family together.
Strawberry picking in MN is a fun and engaging activity providing a unique opportunity to bond with the family and many other benefits.
Benefits of Strawberry Picking
Strawberry picking in MN offers many benefits beyond just being a fun activity. It's a great way to get outdoors and enjoy the sunshine while also getting some exercise. It can also be an opportunity to teach children where their food comes from and how it's grown.
Also, strawberry picking allows you to create lasting memories with your family. You can take pictures of your family as you pick strawberries and reminisce about the experience for years.
Strawberry picking can also be an affordable activity for families. Instead of spending much money on expensive outings, strawberry picking can be a low-cost way to spend time together.
Preparing for Strawberry Picking
Before heading out to pick strawberries, it's important to prepare before picking strawberries. First, check the weather forecast and dress appropriately. You'll likely be outdoors for a few hours, so wear comfortable clothing and shoes. Also, bring sunscreen and hats to protect yourself from the sun.
Make sure to bring containers for the strawberries you pick. Most farms will provide containers for you, but it's always a good idea to bring your own, just in case. You may also want a cooler with ice packs to keep the strawberries fresh on the drive home.
During Strawberry Picking
When you arrive at the farm, you'll likely receive instructions on where and how to pick the strawberries. Make sure to listen carefully and follow the guidelines to ensure that you have a safe and enjoyable experience.
Picking strawberries is a great opportunity to work together as a family. You can split into teams and see who can pick the most strawberries the fastest. Or, you can work together to fill your containers with the best-looking strawberries.
While you're picking strawberries, take the opportunity to talk with your family. You can ask your children about their day or share stories about your childhood. Strawberry picking is a great way to create a relaxed environment for meaningful conversations with your family.
After Strawberry Picking
After you've picked all the strawberries you want, take some time to explore the farm. Many farms have additional activities, such as hayrides or petting zoos, that your family can enjoy.
When you get home, take the time to wash and prepare the strawberries you've picked. You can use them to make delicious desserts or add them to your breakfast for a healthy treat.
Conclusion
Strawberry picking is a great bonding activity for families. It offers many benefits, including exercising, teaching children about food, and lasting memories. In addition, with some preparation, strawberry picking can be a low-cost and enjoyable way to spend time with your family. So, next time you're looking for a family activity, consider heading to the strawberry farm for fun and bonding. Visit beckysberriesllc.com to learn more about strawberry picking in MN.